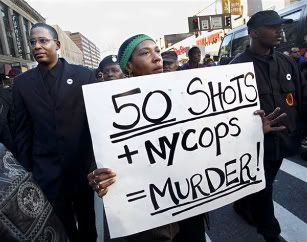 Today is a sad day for the black community. Detectives Mike Oliver, Marc Cooper and Gescard Isnora, who were involved in the shooting of Sean Bell, were acquitted of all charges. Sean Bell, 23, was hours away from becoming a married man when he was shot 50 times by the guns of the people who are suppose to protect us. That Right! The po-pos, pigs, cops, 5-0, or whatever you want to call them.
The verdict has caused an uproar of many people who feels that police has too much power and basically can get away with everything. Damn, did they really have to put 50 bullets into him......? This makes you think twice about our justice system.
Leave a comment on how you feel about the situation.......